Québec City, Quebec, March 14th 2023 – Robex Resources Inc. (TSX-V:RBX; FRA:RB4) ("Robex" or the "Company") is pleased to announce the ramp up of its exploration drilling campaign for 2023.
Highlights
Minimum 50,000 meters of RC drilling will be done through 2023, in parallel with continuing DD drilling;
Majority of drilling will be resources delineation drilling, remaining will be exploration focused at known deposits where there is significant resource potential;
Initial exploration results are expected in Q2 2023.
Robex engaged Forage FTE Guinée for its exploration program over the past few months at Kiniero. Forage FTE mobilised two Schramm T450 drill rigs to undertake a minimum 50,000m Reverse Circulation ("RC") drilling campaign, which commenced on Thursday 2nd March 2023.
Robex is focusing drilling in the south of Kiniero first, then to the north
Following on from the (i) discovery of Sabali South, as well as (ii) the exciting results at Mansounia Central and at the SGA/Jean deposits, Robex is planning to drill out known extensions of the southern Kiniero deposits, which will be drilled with a dedicated Forage FTE RC drill rig. Most of the drilling will be concentrated in this area (> 40,000 meters).
This ramp-up in drilling is an additional program to the trenching done at Kiniero over the past few months. This has included a (i) >1,000 meters of trenching since January 2023; and (ii) 7,727 meters power auger geochemical drilling campaign (5,287 meters of which was performed in year-to-date March 2023) at previously undrilled near-plant (<3km) targets, for which assays are awaited.
In addition, a maiden exploration drilling campaign in the north of the Kiniero License will be executed in Q2 of 2023. Drill planning will be guided by historical exploration results (drilling and trenching), and by the recently returned BLEG results and reconnaissance field mapping campaigns.
Drilling will be reconnaissance by design, complimenting historical exploration, and has been planned to initially be completed at the Mankan and Heriko deposits – two known deposits that are situated 15km directly along strike on the same mineralised super structure as the neighbouring Predictive Discovery Bankan deposit (see figure 1 below).
Sample preparation will be undertaken at the recently commissioned site based WESTAGO SARL at the Kiniero Gold Mine. Fire assay services will be provided by the internationally accredited ALS Laboratory in Ouagadougou, Burkina Faso. The use of WESTAGO will streamline cross-border sample dispatches, increase frequency of sample dispatches and improve turn-around-time on assay results, allowing for more focussed results-driven drilling to be completed.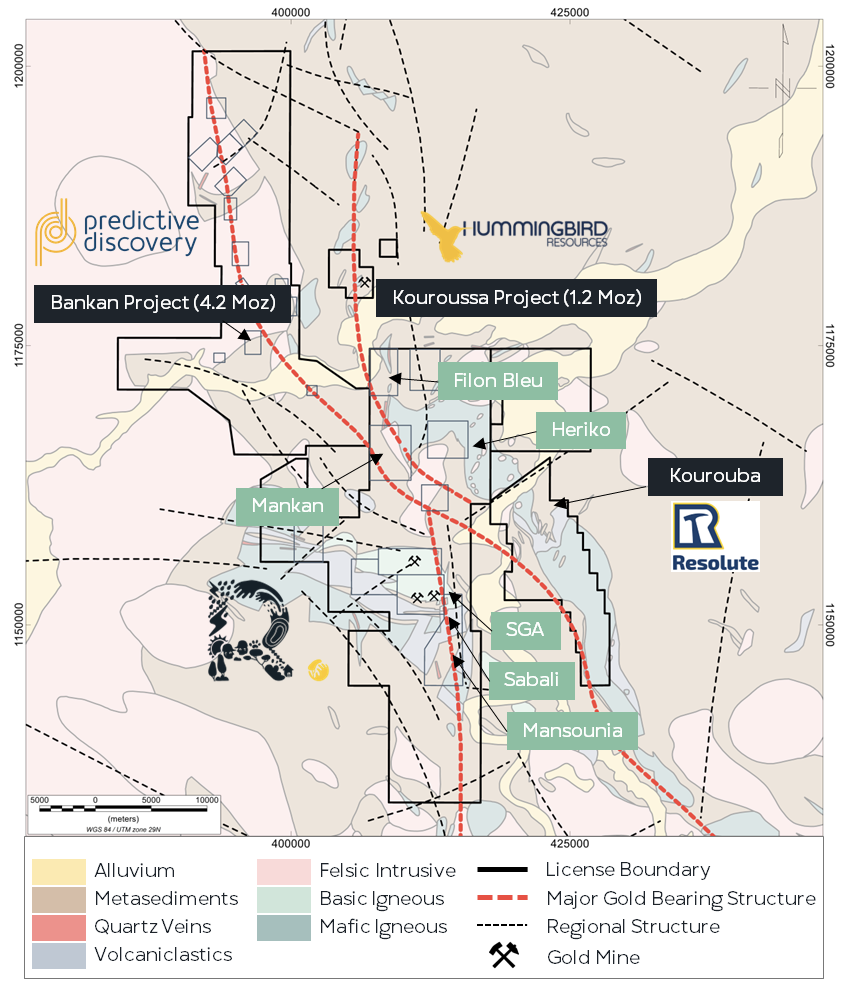 Figure 1: Kiniero Gold District
Robex owns the Filon Bleu, Mankan, Heriko, SGA, Sabali and Mansounia deposits
Robex Exploration Manager, Andrew de Klerk, said: "The delineation of new, and refining of known, exploration targets from the Project-wide BLEG soil sampling campaign has really highlighted the scale and magnitude of the prospectivity that the Kiniero Project offers.
Recent drilling results and mapped trenching observations support the strike extension drilling of known deposits in the south targeting near-plant resources. Further, the recently complete auger drilling campaigns has further refined additional near-plant targets for drilling.
From a prospectivity standpoint, we are very excited to undertake drilling in the north of the Kiniero License. This is an area that has long demonstrated the prospectivity to deliver a world class discovery, like that of the recently delineated neighbouring Bankan Deposit (Predictive Discovery), a deposit which is situated directly along strike from the same mineralised super structure that hosts the Mankan and Heriko deposits of Kiniero".
Qualified Person
The technical disclosures contained in this press release have been approved by Andrew de Klerk, BSc (Hons), Pr.Sci.Nat, a Qualified Person pursuant to NI 43-101. Mr De Klerk is the Exploration Manager of the Company, a Member of the Geological Society of South Africa and a Member of The Southern African Institute of Mining and Metallurgy. Mr de Klerk is not independent of Robex as he is a full-time employee.
About Robex Resources Inc.
Robex is a multi-jurisdictional West African gold production and development company with near term exploration potential. The Company is dedicated to safe, diverse and responsible operations in the countries in which it operates with a goal to foster sustainable growth. The Company has been operating the Nampala mine in Mali since 2017 and is advancing the Kiniero Gold Project in Guinea.
Robex is supported by two strategic shareholders and has the ambition to become one of the most important mid-tier gold producers in West Africa.
More Information